3 Top Digital Platforms for Asset Managers to Grow AUM
The New Digital Reality
As an asset manager, you know that regular communication is critical to growing AUM. However, you may feel that it is more complicated than ever to reach advisors and investors. In the digital era, investors research strategies like yours online before speaking with you or your team. If you want to connect with your clients and prospects in today's fast-paced online world, you need to meet them where they are.
Most Americans spend over 5 hours each day online, with roughly half of that time on social media. While there are dozens of digital platforms to choose from, they are not all created equal. If you want to expand your reach among financial professionals, it's essential you choose the platforms they use. Following is an overview of three of the most effective digital platforms for asset managers.

1. LinkedIn: Advisors' Favorite
According to recent research, financial advisors use LinkedIn more than any other online channel, more than The Wall Street Journal, Bloomberg, Barron's, the Financial Times, and Twitter. Thus, LinkedIn is the essential platform for asset managers to focus their digital outreach.
Financial Advisors Use LinkedIn More
Than Any Other Online Channel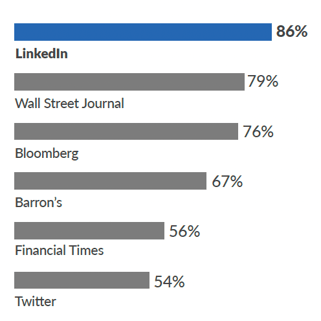 Source: "FA and Asset Manager Quarterly Update Q3 2020," LinkedIn
As the world's largest professional social network, LinkedIn tops the list of worthwhile platforms. It's primarily used by professionals and is widely recognized for its lead generation potential. LinkedIn has over 774 million members worldwide and more than 180 million users in the U.S. In addition, more than any other social media platform, LinkedIn allows you to highlight and promote your thought leadership, often the exact type of content investment advisors are looking for.
Powerful Combination
To maximize results on LinkedIn, and social media more broadly, consider the powerful combination of organic and paid approaches. Use organic social media to retain assets. Use paid social media to raise assets.
Organic social media, which includes your profile, postings and followers, establishes your online presence and reputation. An effective organic social media program can help you retain assets.
With paid social media, you broaden your visibility and reach new potential customers. A well-crafted and well-executed paid social media program can assist you in raising assets.
Remember, a truly effective digital strategy combines both organic and paid approaches.

Cost Effective
Creating effective ads on LinkedIn is easy, thanks to the platform's extensive audience targeting. Even better, unlike most other social media platforms, LinkedIn users expect to see content on the platform that specifically promotes funds and strategies.
LinkedIn also provides information about who "likes, comments, and shares" your content. Clicking on the profile of those who engage with your content shows extensive details about their professional history. This can help you confirm if your content resonates with the right audience. You can also dig deeper to see other posts they've interacted with. Use this information to generate ideas about what to post next.

2. Programmatic: Algorithmic Advertising Across the Web
Programmatic advertising uses a centralized platform and algorithms to automatically buy and sell online advertising space in real-time. This helps reduce costs and optimize results, allowing you to cost-effectively reach your prospects on multiple platforms across the web.
Growing Trend
Online programmatic advertising is a growing trend that isn't going away any time soon. In fact, in 2017, global spending on programmatic advertising was approximately $68.2 billion. By 2021, this had skyrocketed to $155 billion, with the U.S. accounting for more than half. The strategy's popularity is due, in part, to its ability to provide real-time feedback, which allows for ongoing campaign optimization.
Growth of Global Programmatic Advertising
2017-2021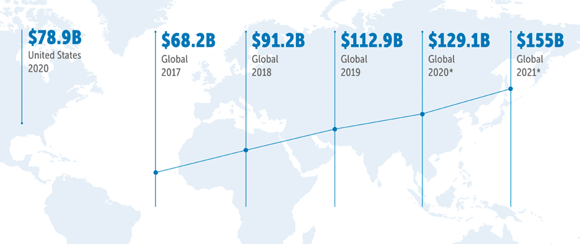 Source: Statista
Display ads for desktop, mobile, or tablets are the primary format for programmatic advertising by asset managers. Other ad formats include video, audio, and connected TV. Programmatic advertising is an effective way to expand your reach beyond social media.
3. Facebook: The King of Social Media
After optimizing both LinkedIn and programmatic advertising, asset managers can benefit from turning their attention to Facebook. This behemoth is the largest social media platform globally and is aptly named "The King of Social Media." Over 2.9 billion people use the platform worldwide, and as of the third quarter of 2021, Facebook reported having approximately 1.93 billion daily active users. U.S. users exceed 300 million.
Worldwide and US Facebook Users
2021


Source: Statista, Facebook
Custom Targeting
Facebook's custom targeting allows you to select your audience, creating the potential for highly effective ads with a significant return on investment. Building a solid presence on Facebook can allow you to broaden your reach, increase engagement, connect with additional prospects, and drive more traffic to your website.
This platform is excellent for building brand awareness. The more aware investment advisors are of your brand, the more likely they will connect with you to learn more about your offerings or even book a consultation.
Facebook ads are relatively inexpensive compared to other options, making them cost-effective for asset managers who want to build upon an already solid digital presence.

Ready to Increase AUM with digital?
Creating and optimizing the ideal digital marketing strategy can be challenging even for the largest asset managers. That's where the experts at GK3 Capital come in. We're the leading digital distribution specialist for asset managers seeking innovative approaches to growth. Our mission is simple: Help our clients drive AUM and revenues higher with the power of digital distribution. We partner with clients who collectively manage more than $50 billion. Let us show you how to empower your digital distribution and grow your AUM by downloading our free eBook here.
Topics: Inbound Marketing Digital Marketing Financial Services Marketing Content is King Digital Wholesaling Financial Services Sales Enablement Growth Driven Design Inbound vs. Outbound Business Development
Stay in Touch
Subscribe to our email newsletter