Putting Clients First: GK3 Value-Based Engagements
When something takes you way too much time, but very little real effort, it can feel like the payoff is disproportionately small. (For a novice cook, for instance, dicing vegetables might qualify. Only a quarter cup so far?! Very disappointing.)
Conversely, when you complete something complex and high impact in a shorter period, the payoff seems pretty darn good.
So, how do you get big payoff, no matter the task? Imagine you had a way to quantify effort based on factors other than hours spent. That's what Agile points allow for.
Below, we'll detail the reasons for using Agile points instead of hours in our client engagements, and why Agile points are a better option for both sides of our partnership.
What are Agile points?
Agile points are a unit of measurement that represents the size, complexity, and sometimes, impact, of a specific task as a way of quantifying effort.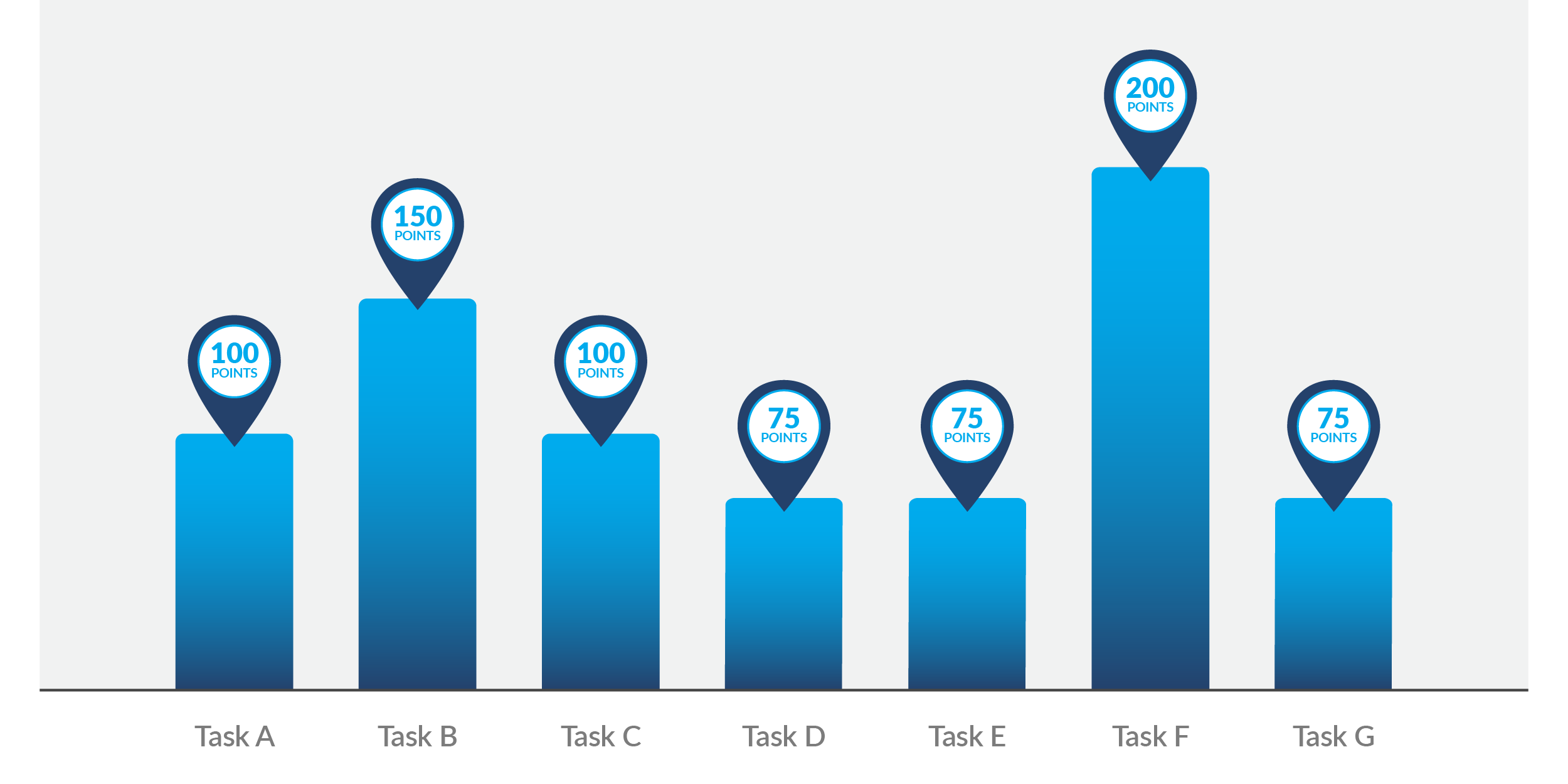 Importantly, points are not based on time. As we mentioned above, that's the old (and much less gratifying!) way of calculating effort. With points, tasks that require more complexity and tasks that are larger and/or have a bigger impact will be assigned more points.
Why does GK3 use Agile points?
There are many advantages of measuring a project using Agile points, for both our clients and for GK3.
1. Flexibility
Using a unit of measurement other than time lets you change your requirements and expand scope without hampering quality. If a task becomes increasingly complex, you don't have to make a lose-lose choice: Stop where you are, or proceed, but do it poorly.
Without negotiating your retainer commitment, you can simply adjust points accordingly for that specific task. Flexibility is the foundation for us.
2. Improved collaboration and prioritization
As we work with our clients to create their goals and tactics, we discuss the complexity and effort of each task.
In a typical Agile framework, you select your priorities by finding the intersection of impact and effort. By communicating openly about that effort and why it shapes priorities, both GK3 and our clients develop a better understanding of the value of any given work.
With that understanding, we can collaborate more freely, rather than negotiating on hours-based deliverables. Open collaboration also helps identify potential roadblocks, allowing you to address them before they become larger issues.
3. Value is quality
Using Agile points lets us price our services based on the value we deliver. Rather than focus on meeting billable hours goals, we focus on the quality of the work, such that it creates the maximum impact.
4. Fair, accurate, up-to-date pricing
Speaking of value! If you've ever worked with an agency, you know that you sometimes pay for hours you didn't use. Not the case with Agile points. Your pricing is up to date, fair (because it's value-based), and highly accurate in representing what you actually achieve.
It also makes billing more objective because hours worked can be impacted by factors like distractions and non-productive activities. By using points, you are able to bill for actual work completed rather than amount of time spent on a project.
Agile points and your business
Using Agile points lets GK3 offer clients greater accuracy and flexibility at the same time. With value-based retainers and projects, you can stop wasting your energy and budget on plans and setups that don't perform — or on hours you don't use.
Topics: Inbound Marketing Digital Marketing Financial Services Marketing Content is King Digital Wholesaling Financial Services Sales Enablement Growth Driven Design Inbound vs. Outbound Business Development
Stay in Touch
Subscribe to our email newsletter