5 Essential Technologies Every Asset Manager Needs To Grow
Is this the year you finally invest in and embrace technologies that will cut marketing costs and increase your sales? It should be, because your competitors aren't there yet, and this would give you a real edge in 2019.
Okay, granted, technology is often considered the bane of an organization. It's often deemed too expensive and too underutilized, but those perceptions only hold true when a company hasn't fully committed to extracting their full value. And sometimes we need to be reminded of the promise technology can offer.
Just consider these three tech benefits:
1. Technology Informs. It can parse and serve up data that empowers business leaders to make smart, informed decisions. This can eliminate wasted efforts and focuses sales and marketing dollars in the areas that will generate the best results.
2. Technology Automates. It can streamline the repetitive actions that are necessary to win clients. It takes10-15 engagements to turn a lead into a client today, yet most salespeople give up after 1.8 attempts. Technology never gives up.
3. Technology Prioritizes. It can help you know the right potential clients to call, when to call them, and what message you should use to earn their attention. It takes 90 dials to schedule an appointment. Technology can reduce that number to single digits.
So, what are the right technologies you'll need to thrive this year? We believe there are five and, working together, they become the foundation of your technology stack.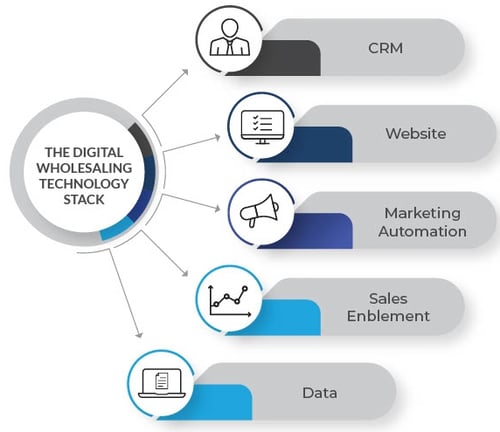 Let's take a brief look at each:
CRM
This is tool that indispensable to your success. CRM refers to Customer Relationship Management software and it is best described as a technology for managing all your company's relationships and interactions with customers and potential customers. There are dozens of quality CRMs available, but HubSpot is one we are particularly fond of because does an excellent job at helping align activities of sales, marketing and service.
Website
Yes, you have a website. You may have spent a small fortune building it. It may be beautiful with hundreds of pages filled with information on all the great things you do. But if it's not optimized with great content prospects are searching online for, you might as well be invisible.
You need to make sure your site is designed in a manner that attracts, converts and closes new clients. Most companies get this wrong. Evernote is one that we think gets it right.
Marketing Automation
This is software that automates many of your marketing tasks. It's designed to help you prioritize and execute your marketing tasks in a more streamlined and efficient way, like interacting with prospects at the right time with relevant content for where they are in the buyer's journey.
As you drive traffic to your website, convert that traffic into leads and close those leads into customers. Where marketing automation really makes an impact is the conversion and closing stages of this process. There are many other software programs but we like HubSpot here as well because it integrates so well with its CRM engine.
Sales Acceleration
This is software in your technology stack designed to bridge the common gap between sales and marketing. While a CRM system can help increase sales by generating more qualified leads, those leads don't automatically translate to a more efficient and faster sales process. This is where sales acceleration software comes into play. It's best described as software designed to help sales representatives sell faster and more intelligently. The upshot is, well-integrated sales acceleration software helps you achieve:
Better win rates
Shorter sales cycles
Improved quota performance
Increased number of leads and prospects
Outreach is an example of a great sales acceleration software.
Data Source
The last piece of key technology you'll need to run with high efficiency is a data source of potential leads and prospects. There are many reputable providers so be certain you identify a platform that:
Offer hundreds of filters allowing you to search and narrow your targets to those most closely meeting the personas you've identified
Integrates easily with your other core technologies like your CRM, geo-mapping programs or your data warehouse
Supports you with a dedicated account manager equipped to run searches on your behalf and provide data and reports . . . without you needing to.
One of our favorites is Discovery Data.
So that's it - the technology bundle that can drive you to new heights in 2019. Let us know what your thoughts are!
Learn about these platforms and more in our latest eBook: Digital Wholesaling: A Blue Print for Asset Managers
Topics: Inbound Marketing Digital Marketing Financial Services Marketing Content is King Digital Wholesaling Growth Driven Design Financial Services Inbound vs. Outbound Sales Enablement Business Development
Stay in Touch
Subscribe to our email newsletter