Identify your audience
Who are the ideal prospects you're trying to reach? Understand your buyer person a before launching into a campaign so you can target them correctly.
Set your goals
Your goals can be almost anything- email opens and click-throughs, site traffic, new visitors, offer registrations, conversions, increased revenue, etc.
Report on your results
Hard work shouldn't go unmeasured. You set goals at the beginning and now it's time to celebrate your success. Organize and share your numbers at the end of the campaign.
Inbound Marketing Checklist
Uncover the 10 key steps needed to execute an inbound campaign that delivers results.
Access your inbound checklist now
GET THE CHECKLIST
Amplify your inbound marketing campaigns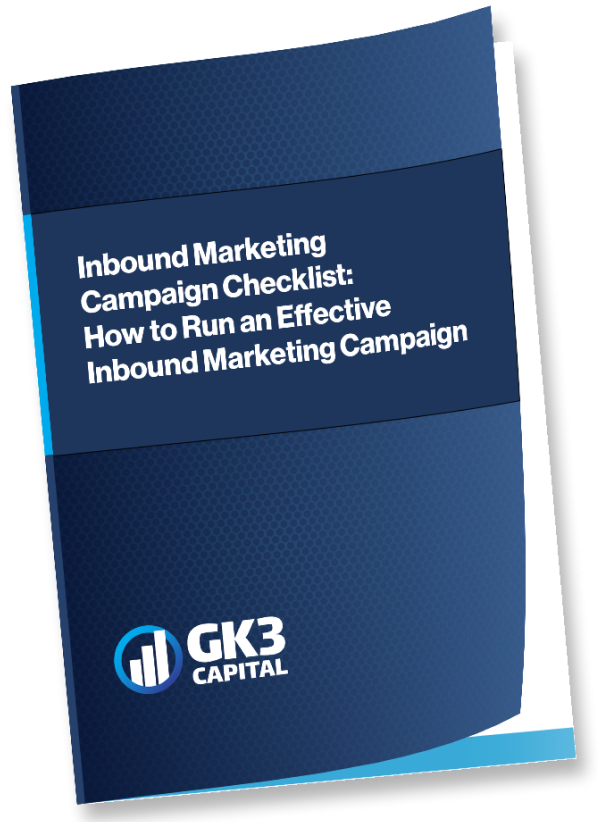 GK3 Capital's Inbound Checklist will help you:
Identify the ideal prospects you're trying to reach
Address all the key aspects of your campaign Run an effective & measurable inbound campaign
Execute an effective inbound marketing campaign
Download GK3 Capital's Inbound Marketing Checklist and start driving AUM and revenues higher.