Multi-channel nurturing
In the past, most lead nurturing strategies involved organizing a simple email drip campaign that distributed generic emails to a list of prospects. Today, email-only lead nurturing strategies have a few inherent problems.
Timely follow-ups
The odds of a lead entering the sales process, or becoming qualified, are 21 times greater when contacted within five minutes versus 30 minutes after an inbound lead converts on your website.
Personalization
Personalized emails generate up to 6 times higher revenue per email than non-personalized emails do.
Start Nurturing Leads the Right Way
Learn the 7 tactics that will make your lead nurturing program soar.
Access your lead nurturing guide now
GET THE GUIDE
Significantly impact the results of your inbound strategy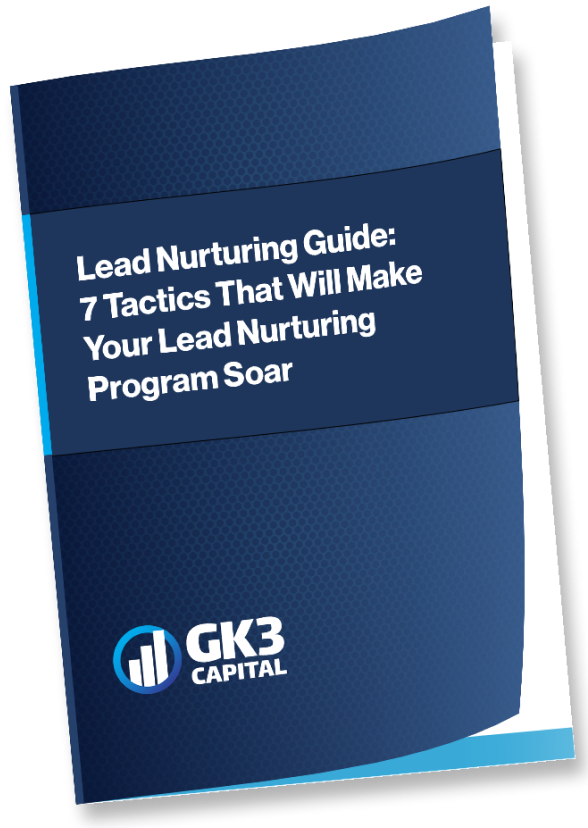 GK3 Capital's Lead Nurturing Guide will help you:
Learn the necessary multi-channel tactics and touchpoints
Provide relevant information at each stage of the buyer journey
Understand the impact of implenting a lead scoring strategy
Build a best-in-class lead nurturing strategy
Download GK3 Capital's Lead Nurturing Guide and start driving AUM and revenues higher.